ABOUT
---
Statement of Estonian academic societies in relation to the crisis in Ukraine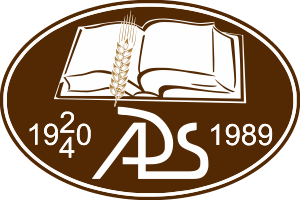 Estonian academic societies express their deep indignation about the military invasion of the Russian Federation into sovereign Ukraine. The current situation does not leave any space for illusions that the Putinist imperial formation might change politically and morally. Relying on our nation's historical experience and our academic competence, we know only too well what the national chauvinism of the aggressor state and its will to suffocate peoples' independence, self-determination and free thought mean. The wish of the current regime of the Russian Federation to assert itself but also its weakness is shown by creating festering crisis pockets on its borders. We can see that Russia will not be able not achieve much more than that in Ukraine either. Still, the war has already caused sufferings and losses to millions. We express our support to the Ukrainian academic community and wish them determination in defence of their state and democratic values.
---
Обращение эстонских академических обществ в связи с кризисом в Украине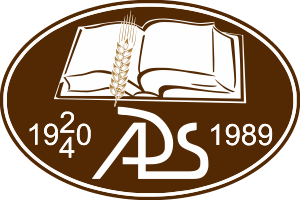 Эстонские научные общества выражают глубокое возмущение военным вторжением Российской Федерации в суверенную Украину. Нынешняя ситуация не оставляет места для иллюзий относительно того, что путинская имперская формация может измениться в политическом и моральном смысле. Опираясь на исторический опыт нашего народа и нашу научную компетентность, мы хорошо знаем, что означает национальный шовинизм государства-агрессора и его стремление задушить независимость, самоопределение и свободомыслие народов. Желание нынешнего режима Российской Федерации к самоутверждению, но и его слабость проявляются в создании вблизи своих границ тлеющих кризисных очагов. Мы видим, что Кремль не может добиться бóльшего и в Украине. Тем не менее, война уже принесла страдания и потери миллионам людей. Выражаем поддержку украинскому научному сообществу и желаем ему решимости в защите своих государственных и демократических ценностей!
---
Estonian Academic Agricultural Society
M. Karelson, O. Saveli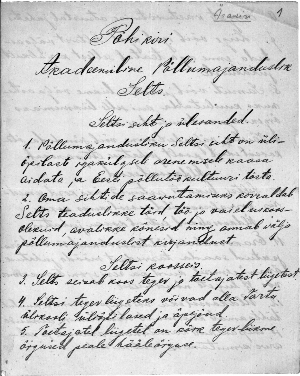 The Estonian Academic Agricultural Society promotes the scientific development of Estonian agriculture. It was established in 1920 with the motto "Work under the guidance of enhancing homeland agriculture in the spirit of the Estonian progressive farmer!" and recognized by Tartu University board in 2nd December 1920 and by Tartu-Võru Peace Assembly in 25th March 1925.
Members of the Society were the students (up to 449 in 1928) as well as the lecturers of the Faculty of Agronomy. The objective of the extracurricular activities of the AAS was to prepare the students for their future profession. Publishing activities were of great importance – the Society's journal (Agronoomia) was published and manuals were compiled. The AAS was liquidated by Soviet power in 1940.
The Academic Agricultural Society was re-established in 1989. The Journal of Agricultural Science (Agraarteadus) has been published since 1990. Since 1996 the scientific annual conferences have been organized and two issues of the Transactions of the EAA Society have been published (until 2001). To appreciate the scientific work of the members of the EAA Society three honoraria have been given and the honorary members have been elected. There are more than 200 members of the EAA Society. EAAS is based in Tartu.